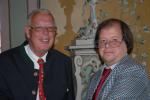 Nach 42 Jahren ist Dr. Karl Ohnmacht am 30. Juni 2013 als Obmann von St. Gabriel in Österreich zurückgetreten. Er werde aber als Ehrenobann weiterhin für St. Gabriel tätig sein und die internationale Kontakte weiterhin pflegen.
Mag. Wilhelm Remes wurde als Nachfolger gewählt. Ich gratuliere Ihm hierbei ganz herzlich und wünsche ihm ganz viel Erfolg. Ich bin überzeugt das es eine schwere Aufgabe wird.
Leiber Karl und Liebe Hildegard, ich danke Ihnen ganz herzlich für das was sie in die vergangene 42 Jahre für die Österreichische Gilde – aber auch für den Weltbund - gemacht haben. Als damaligen Vizepräsident und Organisator des Weltbund Kongress 2004 – das Sie mit eine so große Österreichische Gruppe besucht haben – habe ich viel Unterstützung von ihnen bekommen.
Ich wünsche Ihr beiden noch viele schöne Jahren zusammen und in Dienst der österreichische Gilde.
Ad multos annos.
Dr. Mark Bottu,
Präsident Weltbund St. Gabriel
Mag.Wilhelm Remes Chairman of St. Gabrielguild Austria
After 42 years On 30 June 2013 Dr. Karl Ohnmacht retired as Chairman of St. Gabriel in Austria. But he will continue to be active as "Ehrenobmann" for St. Gabriel, and continue to maintain the international contacts..
Mag. Wilhelm Remes was elected as successor. I here sincerely congratulate him and wish him all success. I am convinced that it will be a tough task.
Dear Karl and Hildegard, I thank you very much for what you have done in the past 42 years for the Austrian Guild, but also for the World Federation. As former Vice President and organizer of the World Congress 2004 - which you have visited with a large group of Austrian guild brothers - I get much support from you. I wish you both many beautiful years together and in service of the Austrian Guild.
Ad multos annos.
Dr. Mark Bottu, President World Federation St. Gabriel